Writer profile profile for jo
Joanna Huckvale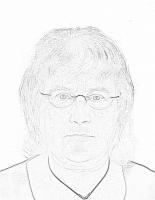 I have always enjoyed writing and concocting stories and poems and I would like to thank my mother for singing to me when I was young and showing me that it was natural to write things down. Telling impromptu stories to my kids when they were young was also fun.
Besides poetry, Jo has written stories and sketches in the past. As her family grew older she was self-employed for a short while working with people who wanted to write their life stories. She also volunteered similar skills to help stroke patients reminisce and appraise their lives. 
She has written a full length romantic novel, since discarded, and another full length 'kidult' novel, "Jessiebelle: The Secret", a tale about a Unicorn. This has been self published along with a prequel CD in collaboration with International Harpist, Christina Tourin who originally commissioned a story for a series of inspired Harp Tutors for children called "The Rainbow of Sound". Christina also originally dreamed up the Unicorn and Jo is hoping to finish a series of six novels about the different reality of that creature that draws on myth, Jungian archetypes, New Age Spirituality and healing. She is delighted to have recently discovered a new genre of fiction which identifies itself as Visionary Fiction. This fits her type of story and its ethos of healing through the magic of the harp far more easily than fantasy. 
This summer and autumn will also see the completion of several children's stories and who knows what else will be prompted by her attendance at the Creative Writing Class at Chipping Norton Theatre!